Housemade Dips
Dips are available in pints. Minimum order size - 2 pints.
Chicken Corn Chowder Dip 8.50/pint
Fresh Tomato Bruschetta 7.50/pint
Chipotle-Honey Black Bean Dip 7.50/pint
Caramelized Onion Dip 7.50/pint
Dippers
Housemade Jumbo Bavarian Pretzels served with choice of dipping sauces: coarse grain mustard, honey-Dijon, ranch, or horseradish cheddar. 5.50/each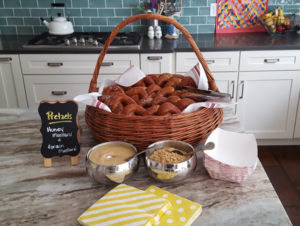 Slider Bars
Slider bars are served warm with mini buns. All orders include rustic potato chips as a side.
BBQ Pulled Pork and Mini CAB Burgers served with cheddar & Swiss cheese, apple cider cole slaw, pickle chips, red onion, roma tomato, shredded lettuce, sriracha ketchup, and whole grain mustard. 13.00/person
The Piggie featuring house-recipe pulled pork and served with crumbled bacon, apple cider cole slaw, pickle chips, and red onion. 8.00/person
Macaroni Bar
Elbow Macaroni tossed in a creamy cheddar sauce. Toppings include: crumbled bacon, corn, red onion, scallions, grape tomatoes, and pickled jalapenos.10.00/person
Add-Ons
Additional meat choices below. Choose one, +3.50/person. Choose two, +6.00/person
Buffalo chicken Grilled chicken tossed in our housemade Buffalo sauce.
The Piggie Gitta's-Table-recipe BBQ pulled pork.
Chicken tenders Baked chicken tenders.
Chili Hearty beef chili.
The Fajita Nacho Bar
Tri-Colored Tortilla Chips with Pulled Smoked Pork or Chipotle-Lime Pulled Chicken. Toppings include: pickled jalapenos, sour cream, shredded cheddar, red onion, bell pepper, pineapple, black bean and corn salad, and traditional salsa. 13.00/person
Add-Ons
Housemade guacamole +3.00/person
Both meats +4.00/person
Make it a Salad Bar! Add fresh chopped romaine and housemade oregano vinaigrette. +2.00/person
Sandwich Tray Orders
Minimum order size - 10 people.
Add-Ons
Rustic potato chips +1.00/person
The Basics Sandwich Tray
Fresh-made sandwiches are topped with lettuce and tomato. Choose from five options. 7.50/person
Turkey and Provolone with basil mayo.
Ham and Swiss with coarse grain mustard.
Roast Beef and Cheddar with chipotle mayo. (+1.00)
Seasonal Chicken Salad
Tuna Salad
Specialty Sandwich Tray
Choose from six options. 9.00/person
Turkey and Bacon with Swiss cheese and basil mayo.
Buffalo Chicken with carrot blue cheese slaw and romaine.
Chicken Caesar with romaine, lemony Caesar dressing and shredded asiago.
Italian Chicken with panini spread, roasted red pepper, salami, and red onion. (+1.00)
Portabella Mushroom with provolone, avocado, caramelized onion, and chipotle mayo.
Minimum order size - 20 people.
Add-Ons
Add chicken to any pasta +3.00/person
Crusty bread or housemade focaccia +.50/person
Penne with Roasted Red Pepper Alfredo, sun-dried tomato, fresh basil, and goat cheese. 6.00/person
Cheese Ravioli with Basil Pesto, roasted red onion, roasted tomato, fresh basil and asiago. 7.00/person
Penne with Roasted Butternut Squash, sage, pine nuts, and asiago. 6.00/person
Salad Bowl Orders
Serves 10-12 people. Includes disposable plateware, flatware, and napkins.
Add-Ons
Chicken on the side +3.00/person
Crusty bread or housemade focaccia +.50/person
Salad Bowl Choices
Cobb with romaine, hard-boiled egg, red onion, tomato, bacon, blue cheese and creamy chive dressing. 47.00
Greek with romaine, tomato, cucumber, feta, kalamata olives, red onion, and oregano vinaigrette. 45.00
Caesar with romaine, housemade croutons, asiago, and lemony Caesar dressing. 42.00
The GT with field greens, dried cranberries, bacon, goat cheese, toasted pecans, and apple cider vinaigrette. 45.00
Creamy Basil Pasta Salad with carrots, red onion, red bell pepper, and creamy basil vinaigrette. 25.00
Greek Pasta Salad with feta, red onion, cucumber, tomato, kalamata olives and Greek oregano vinaigrette. 30.00
Side Orders
Minimum order size - 20 people.
Fresh Fruit Salad with seasonal fruits, including melons, grapes, golden pineapple, berries, etc. 3.50/person
Redskin German Potato Salad with fresh dill, red onion, red wine vinaigrette. 2.50/person
Baby Baker Potato Salad with bacon, scallions, cheddar cheese, Carolina honey mustard dressing. 3.50/person
Fresh Brewed Iced Tea 1.50/person
Homemade Lemonade 2.00/person
Bottled Water 1.00/ea
Canned Coke Products (12-oz) .89/ea
Credit Card required when placing order. Prices subject to change.
Disposable plateware, flatware, cups, and napkins available. Please contact us for pricing.